1 VIP Day Website Design Experience
1 page conversion-focused website, social templates, business cards
Having recently completed our signature Brandividuation Service,  Jennifer is now able to share the value of the work she does for leadership teams of scaling small businesses with confidence and ease. Not only that, but she has a professional identity that will attract new prospects that are of a more sophisticated level of business. This new website presence will build credibility with that audience. Jennifer is ready to use the work we've done together, to build brand awareness and generate qualified leads for her business.
"Working with Amber and Laurie has been transformative – not only for my business but for me personally, too. The process they've created allowed them to get to know me, almost better than I know myself, even down to the brand colors. I don't know that I've ever felt so seen."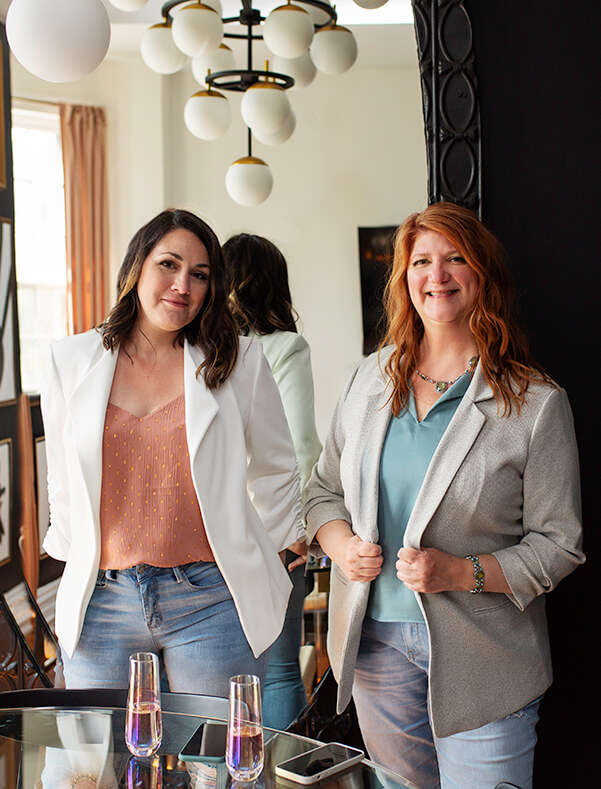 Hey there – Laurie Baines and Amber Brooks here. We joined forces a few years back – to bring together our combined 40 years of messaging, marketing, visual brand strategy, design, and creative direction so you can have a brand that flows cohesively and stands out effectively.
Through the No Band-aid approach to brand visuals and proprietary Brandividuation framework, we extract and articulate the true essence of the values, vision, and vibe behind our clients' missions.
Our belief is that every for-profit impact-focused team deserves a professionally developed brand that is true to their vision and values that will allow them to create the impact they envision, without having to hire a full in-house brand and marketing team. For that reason, we are committed to giving our mission-led clients expert-level support with the personal touch others fall short on.